Shopping Cart: Empty
->
Wildflowers
Illustrated Guide to the Wildflowers of Northern South Africa

Author: Gerrit Germishuizen, Brenda Clark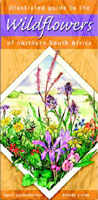 This illustrated pocket guide has been designed for easy use in the field by botanists, nature lovers, eco-tourists, hikers and farmers, for on-the-spot identifications, making it unnecessary to collect specimens and in this way depleting the countryside of its beautiful natural heritage.

Features of the book are:

Full-colour illustrations and brief descriptions of 614 species of the most common flowering plants, succulents and shrublets found in the four northern provinces: Limpopo, North-West, Gauteng and Mpumalanga.
For quick and easy identification plants are placed in eight major categories of flower colour, namely white/cream-coloured; pink, yellow/orange, blue, mauve/purple, red, brown and green flowers.
Each plant family is briefly introduced, where possible giving characters to distinguish them from each other.
English and Afrikaans vernacular names are included where appropriate.
A botanical glossary make botanical terms more comprehensible to the lay person.
Indexes to scientific and common names.
614 color paintings
List Price: $19.95
Your Low Price: $18.95
In Stock Now!
Specific Details
Softcover: 224 pages
Illustrated
Title: Illustrated Guide to the Wildflowers of Northern South Africa
Author: Gerrit Germishuizen, Brenda Clark
Publisher: Briza Publications
Date: 2011
ISBN 10: 1875093397
ISBN 13: 9781875093397
Language: English
Weight: 0 lbs 12.7 ounces