Shopping Cart: Empty
->
Cactus & Succulents
->
Other Succulents
Haworthia Update - Volume 1

Author: Bruce Bayer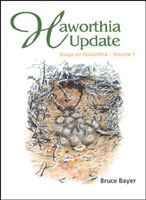 In 'Haworthia Update' Bruce Bayer continues to give readers some insight into the fascinating story of variation in Haworthia. Undoubtedly, no-one else has spent as much time as Bruce studying Haworthias in habitat. This book, the first in a series, consists of five essays discussing variation and consequent problems in the classification and identification of Haworthia. More than 400 color illustrations complement the text, giving the reader an insight into the species covered.

This new publication on one of the most popular genera in the succulent world is indispensable to anyone interested in these plants.
List Price: $45.00
Your Low Price: $39.95
In Stock Now!
Specific Details
Hardcover: 64 pages
Illustrated
Title: Haworthia Update - Volume 1
Author: Bruce Bayer
Publisher: Umdaus Press
Date: 2003
ISBN 10: 1919766219
ISBN 13: 9781919766218
Language: English
Weight: 1 lbs 3.2 ounces