->
Trees & Shrubs
The Homeowner's Complete Tree & Shrub Handbook The Essential Guide to Choosing, Planting, and Maintaining Perfect Landscape Plants

Author: Penelope O'Sullivan, Karen Bussolini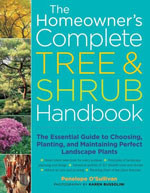 Trees and shrubs bring permanence and structure to home landscapes, adding character and beauty to the entire property. They can impart an immediate sense of geography; act as background staging for flower gardens, outdoor living spaces, and children's play areas; and provide cool shadows and privacy from neighbors and passers-by. They are essential to every beautiful yard, yet many homeowners do not give them the attention that flowers and lawns traditionally receive.

Penny O'Sullivan gives trees and shrubs the respect they deserve in her lively, comprehensive book, The Homeowner's Complete Tree & Shrub Handbook. Woody plants, she maintains, can be the heart and soul of the home landscape plan. Their contribution to the yard might include a springtime canopy of blossoms; colorful, delicious summer fruit; a regal year-round silhouette; rough and rugged bark; or seasonally changing foliage. Their presence is a soothing anchor in the ever-changing environment of a typical yard.

In three sections — design, plant profiles, and care — this handbook covers every essential consideration of tree and shrub gardening. After an introduction to the principles of garden design, O'Sullivan guides readers through tree and shrub selection, with special considerations for owner expectations and growing conditions.

The heart of the book is the extensive encyclopedia of hundreds of tree and shrub portraits. Each profile covers ease of cultivation, availability, history, hardiness, size, growth rate, and special characteristics. O'Sullivan also includes warnings about plants not to grow, such as invasive exotics and disease-prone trees and shrubs.

The final section covers care and maintenance, with thorough advice on buying and planting; siting; pruning; fertilizing; and coping with diseases, pests, and environmental problems.

Adding trees and shrubs to a home landscape can be an expensive proposition. To make their purchases and protect their investment, homeowners will constantly refer to this book for O'Sullivan's wise advice.
List Price: $29.95
Your Low Price: $21.86
In Stock Now!
Specific Details
Softcover: 408 pages
Illustrated
Title: The Homeowner's Complete Tree & Shrub Handbook
Author: Penelope O'Sullivan, Karen Bussolini
Publisher: Storey Publishing
Date: 2007
ISBN 10: 1580175708
ISBN 13: 9781580175708
Language: English
Weight: 3 lbs 3.6 ounces