Shopping Cart: Empty
->
Cactus & Succulents
->
Cacti and Succulents
BCSS Cultivation Leaflets

Author: Various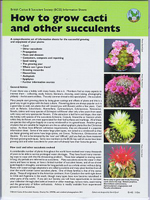 A comprehensive set of information leaflets for the successful growing and enjoyment of your plants:

Cacti Succulents
Propagation Pests and diseases
Containers, composts and repotting
Seed raising
The growing year
Where can I grow them?
Growing Mesembs
Haworthias
Asclepiads
Epiphytes
Further information sources

Pack details: 13 leaflets with 34 pages of full color leaflets; 275x210mm; with over 140 photos, discount membership form and a leaflet on further information sources.

Note: This packet is excellent for beginner cactus and succulent growers.
List Price: $4.95
Your Low Price: $4.95
This item is on order with publisher
new orders will ship upon arrival.
Specific Details
Softcover: 13 pages
Illustrated
Title: BCSS Cultivation Leaflets
Author: Various
Publisher: British Cactus and Succulent Society
Date: 2012
ISBN 10:
ISBN 13:
Language: English
Weight: 0 lbs 5.9 ounces