Shopping Cart: Empty
->
Regional
Lost Worlds of the Guiana Highlands

Author: Stewart McPherson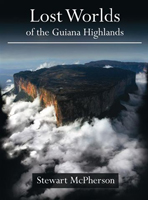 The tablelands of the Guiana Highlands are among the most spectacular yet least explored mountains of our world. Each is an immense sandstone plateau known locally as a 'tepui' that is encircled on all sides by gigantic vertical cliffs up to 1,000 metres tall. The summits of these unique mountains have remained isolated for millions of years, and today harbor plants, animals and landscapes that occur nowhere else on Earth. This work examines the story of the discovery and exploration of these remarkable mountains and considers the unique plants, animals and landscapes atop of these mysterious lost worlds.

The introductory chapters of Lost Worlds outline the remarkable processes that led to the formation of the tepuis of the Guiana Highlands. The following chapter, The Discovery and Exploration of the Guiana Highlands, first reviews the Amerindian presence around, and perceptions of, the tepuis prior to the arrival of Europeans, and then moves to the discovery and description of these tablelands by Europeans from the 16th Century to the exploration of Mount Roraima early in the 20th Century.

The next chapter, Some Strange Country of Nightmares provides an overview of the remarkable physical landscape of the summits of the tepuis with a focus on some of the most surprising geological features that are found on the plateau tops and in the nearby lowlands.

The following chapter, Islands Above the Clouds, examines the unique evolutionary and ecological processes that have shaped and now give character to the biological landscapes of the tepui summits. The next chapter, Life Above the Clouds, looks at the remarkable diversity of organisms found on the summits of the tepuis and the diverse ways in which plants and animals have adapted to the demanding environmental conditions that occur in these highland environments. The final chapter, As a New Century Begins, reviews the current conservation and management issues relating to the future of Guiana.

Lost worlds is the first and only comprehensive study of the remarkable natural history of the tepuis of the Guiana Highlands. The strengths of this book include (1) its uniquely detailed content; (2) the 248 spectacular figures including breath taking images, maps, historical illustrations and photo (3) the very first published images of several species of tepui dwelling plants and animals in their natural habitats.

Lost Worlds is up-to-date, comprehensive, focused, well illustrated, and visually beautiful. It is technically written yet is accessible to specialist and non-specialist audiences and will be a valued source of information for all interested in the natural history of the remarkable tablelands of the Guiana!
List Price: $79.99
Your Low Price: $42.95
This item is on order with publisher
new orders will ship upon arrival.
Specific Details
Hardcover: 350 pages
Illustrated
Title: Lost Worlds of the Guiana Highlands
Author: Stewart McPherson
Publisher: Redfern Natural History Productions
Date: 2008
ISBN 10: 0955891809
ISBN 13: 9780955891809
Language: English
Weight: 2 lbs 10.5 ounces