Shopping Cart: Empty
->
Carnivorous Plants
Sarraceniaceae of South America

Author: Stewart McPherson, Andreas Wistuba, Andreas Fleischmann, Joachim Nerz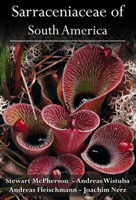 This work is part of an exquisitely beautiful and uniquely detailed two volume monograph that provides the first complete study of the full diversity, ecology and taxonomy of all recognised species of the three genera of Sarraceniaceae (Darlingtonia, Heliamphora and Sarracenia).

Sarraceniaceae of South America examines all species ofHeliamphora from the Guiana Highlands of Venezuela, Brazil and Guyana, including five new Heliamphora species along with three incompletely diagnosed Heliamphora taxa that have not been documented previously.

Complete with up-to-date conservation assessments, distribution maps and accounts of the diversity, wild ecology and habitats of all species, this monograph is a major anddefinitive taxonomic revision of all three genera of true pitcher plants of the New World.

Visually beautiful and comprehensive, these books will appeal to both general readers and specialists who are interested in the natural history, diversity, ecology and relationships of Darlingtonia, Heliamphora and Sarracenia.
List Price: $89.99
Your Low Price: $57.95
In Stock Now!
Specific Details
Hardcover: 561 pages
Illustrated
Title: Sarraceniaceae of South America
Author: Stewart McPherson, Andreas Wistuba, Andreas Fleischmann, Joachim Nerz
Publisher: Redfern Natural History Productions
Date: 2011
ISBN 10: 0955891876
ISBN 13: 9780955891878
Language: English
Weight: 4 lbs 3.0 ounces