Shopping Cart: Empty
->
Trees & Shrubs
Trees, Shrubs, and Cacti of South Texas (Revised Edition)

Author: James H. Everitt, D. Lynn Drawe, and Robert I. Lonard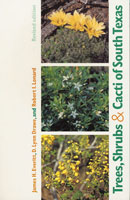 This revised edition of the popular field guide provides a color photograph and gives family name, scientific name, common name, and a general description for each of more than 180 species of trees, shrubs, and sub-shrubs and more than twenty species of cactus common to the fourteen southernmost counties of Texas. The book contains twelve species not included in the previous edition, plus newly updated information. It describes frequently encountered species as well as many rare or endangered species, and native plants as well as introduced plants that have escaped cultivation and are reproducing in the wild.

The text accompanying each plant's photograph includes not only a general description of the plant and its habit, but also its geographical range; a brief description of the habitat in which it can be found; its value and uses, if any, by wildlife and livestock; and other distinguishing ecological characteristics. Most of the plants were photographed at either the flowering or fruiting stage so that they might be more easily recognized.

Although only fourteen counties of South Texas are represented, the extensive ranges of many of the included species make this book a useful reference for plants in other areas of Texas, the southwestern United States, and Northern Mexico.

This publication will be useful to ranchers and ranch managers, scientitst and anyone else interested in the flora of southern Texas. Information gleaned from this book will contribute to sound land management programs.
List Price: $19.95
Your Low Price: $13.57
This item is on order with publisher
new orders will ship upon arrival.
Specific Details
Softcover: 249 pages
Title: Trees, Shrubs, and Cacti of South Texas
Author: James H. Everitt, D. Lynn Drawe, and Robert I. Lonard
Publisher: Texas Tech University Press
Date: 2002
ISBN 10: 0896724735
ISBN 13: 9780896724730
Language: English
Weight: 1 lbs 5.4 ounces