Shopping Cart: Empty
->
Carnivorous Plants
Field Guide to the Pitcher Plants of Borneo

Author: Stewart McPherson, Alastair Robinson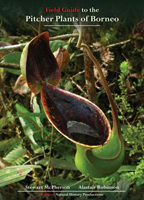 Field Guide to the Pitcher Plants of the Borneo is a lavishly illustrated overview of the thirty nine species of Bornean pitcher plants (Nepenthes). Several species featured in this work have been discovered extremely recently, and the images included in this work are among the first to be published.

This visually beautiful guide book consists of a short introduction to Nepenthes, followed by an overview of the species known from Borneo (complete with full page map). Each species is then profiled over two pages with the use of three images (most of which have never been published before) and a brief, but detailed text summary written in clear, easy-to-understand English. Concluding sections cover Nepenthes hybrids, conservation of Bornean pitcher plants, Bibliography, Index and About the Authors.
List Price: $24.99
Your Low Price: $19.95
In Stock Now!
Specific Details
Softcover: 101 pages
Illustrated
Title: Field Guide to the Pitcher Plants of Borneo
Author: Stewart McPherson, Alastair Robinson
Publisher: Redfern Natural History Productions
Date: 2012
ISBN 10: 1908787031
ISBN 13: 9781908787033
Language: English
Weight: 0 lbs 11.4 ounces