Shopping Cart: Empty
->
Cactus & Succulents
->
Cactus Only
Cacti of the Trans-Pecos and Adjacent Areas

Author: A. Michael Powell and James F. Weedin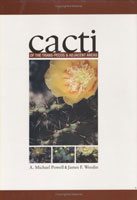 Of the 132 species and varieties of cacti in Texas, about 104 of them occur in the fifteen counties of the Trans-Pecos region. This volume includes full descriptions of those many genera, species, and varieties of cacti, with sixty-four maps showing the distribution of each species in the region.

The descriptions follow the latest findings of cactus researchers worldwide and include scientific names; common names; identifying characters based on vegetative habit, flowers, fruit, and seeds; identification of flowerless specimens; and phenology and biosystematics.

The introduction—full of details about the biology and morphology of the family Cactaceae, the uses of cacti, and the horticulture and conservation of cacti—is an important reference for general readers. More than three hundred beautiful full-color photographs of the cacti in flower and in fruit, all cross-referenced to their description in the text, highlight the book.

A glossary of cactus terms, an exhaustive list of literature, and a thorough index complete the book.
List Price: $60.00
Your Low Price: $44.60
In Stock Now!
Specific Details
Hardcover: 512 pages
Illustrated
Title: Cacti of the Trans-Pecos and Adjacent Areas
Author: A. Michael Powell and James F. Weedin
Publisher: Texas Tech University Press
Date: 2004
ISBN 10: 0896725316
ISBN 13: 9780896725317
Language: English
Weight: 3 lbs 2.4 ounces