Shopping Cart: Empty
->
Other Titles
Wild Berries & Fruits Field Guide of IL, IA and MO

Author: Teresa Marrone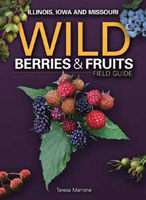 We all have our favorite wild berries and fruits, but do you know when is the best time to pick them? Are you aware of the look-alikes that may be poisonous? These topics and more are covered in this incomparable field guide. It features every detail you'll need to locate and identify the region's berries and fruits.
List Price: $14.95
Your Low Price: $11.21
This item is on order with publisher
new orders will ship upon arrival.
Specific Details
Softcover: 336 pages
Illustrated
Title: Wild Berries & Fruits Field Guide of IL, IA and MO
Author: Teresa Marrone
Publisher: Adventure Publications
Date: 2010
ISBN 10: 1591932483
ISBN 13: 9781591932482
Language: English
Weight: 0 lbs 10.8 ounces