Shopping Cart: Empty
->
Ferns
Ferns and Fern Allies of the Trans-Pecos and Adjacent Areas

Author: Sharon C. Yarborough and A. Michael Powell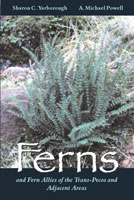 Ferns are usually thought of as plants of moist, humid regions, and at first glance the Trans-Pecos region of Texas, a rugged portion of the arid Chihuahuan Desert, does not appear to be a likely location for ferns and their relatives. Yet in many seemingly unsuitable dry habitats, on shadowed slopes, in canyons, and near springs, seeps, and streams can be found sixty-four species of ferns and fourteen species of fern allies.

This book is a complete review of the true ferns as well as the related spikemosses and scouring rushes of the Trans-Pecos. In a concise, readable introduction, the authors describe the region, which ranges in topography from desert floors to mountain peaks of over eight thousand feet, and the variations in climate and soils that allow ferns to survive in specific habitats. In clear language they describe the morphology, reproduction, and adaptability of ferns and fern allies. Detailed keys to the Trans-Pecos families, genera, and species allow anyone to identify an unknown fern from the region. The species descriptions give full scientific names, common names, synonyms, and descriptions of locations where the fern can be found, including specific information on their occurrence in Big Bend and Guadalupe Mountains National Parks. Wherever necessary, the species descriptions provide information on species that may be confused.

Other features of the book are a quick identification guide, a checklist of the ferns and fern allies of the region, a glossary of terms, and a list of references. The book is illustrated with detailed line drawings of the habit and details of the plants, and distribution maps with each fern's description show where the species can be located in the region.

This book will be a valuable guide for anyone interested in the plant life of far western Texas and adjacent areas in the Chihuahuan Desert.
List Price: $17.95
Your Low Price: $14.94
In Stock Now!
Specific Details
Softcover: 116 pages
Illustrated
Title: Ferns and Fern Allies of the Trans-Pecos and Adjacent Areas
Author: Sharon C. Yarborough and A. Michael Powell
Publisher: Texas Tech University Press
Date: 2002
ISBN 10: 089672476X
ISBN 13: 9780896724761
Language: English
Weight: 0 lbs 7.4 ounces