Shopping Cart: Empty
->
Cactus & Succulents
->
Cacti and Succulents
Little Big Bend Common, Uncommon, and Rare Plants of Big Bend National Park

Author: Roy Morey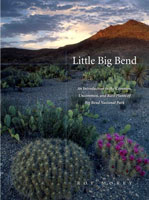 Plant life in Big Bend National Park is incredibly diverse. The wide range of habitats within the park--desert, foothills, mountains and moist woodlands, river canyons and floodplain--as well as the Big Bend's three major blooming seasons of spring, summer, and fall guarantee a stunning show of botanical variety throughout the year.

Little Big Bend is not a traditional guide to the area's common plants. Although it features many species that are characteristic of the Chihuahuan Desert environment, species such as orchids are also included precisely because they are uncommon or rare and therefore a special thrill to find. Plants not seen in other wildflower guides, or those with a limited geographic range that the reader will less likely encounter elsewhere, are pictured here.

This guide describes 109 species found in the United States only in Trans-Pecos Texas; 62 of these occur only in the Big Bend portion of the Trans-Pecos, and 24 of them only within Big Bend National Park. Of the 252 featured species, 71 are considered "sensitive plants"; in Texas, 28 are classified as critically imperiled, 18 as imperiled, and 25 as vulnerable.

The emphasis of this book is on the little in the Big Bend, the overlooked small plants or inconspicuous tiny flowers of larger plants that so often go unnoticed. In a landscape so immense, these plants may be right before our eyes but seldom seen, or they may be tucked away and quite difficult to find. Here, in glowing photographs and insightful text, Roy Morey has brought them to light.
List Price: $34.95
Your Low Price: $25.51
In Stock Now!
Specific Details
Softcover: 336 pages
Illustrated
Title: Little Big Bend
Author: Roy Morey
Publisher: Texas Tech University Press
Date: 2008
ISBN 10: 0896726134
ISBN 13: 9780896726130
Language: English
Weight: 2 lbs 4.0 ounces