Shopping Cart: Empty
->
Carnivorous Plants
A Monograph of the Genus Genlisea

Author: Andreas Fleischmann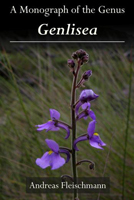 The first complete study of the genus Genlisea - arguably the least known, but most enigmatic, and extraordinary of all carnivorous plants.

In unparalleled detail, this spectacular work examines the diversity, ecology, trapping processes and relationships of all Genlisea species known worldwide. Six years in the making, this definitive study provides the first ever overview of this spectacular and extraordinary group of carnivorous plants.
List Price: $65.95
Your Low Price: $51.95
In Stock Now!
Specific Details
Hardcover: 728 pages
Illustrated
Title: A Monograph of the Genus Genlisea
Author: Andreas Fleischmann
Publisher: Redfern Natural History Productions
Date: 2012
ISBN 10:
ISBN 13: 9781908787002
Language: English
Weight: 5 lbs 5.2 ounces