Shopping Cart: Empty
->
Bromeliads
Tillandsia II - Limited Edition Deluxe Copy The World's Most Unusual Airplants

Author: Paul T. Isley III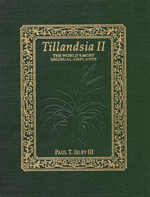 This limited edition consists of only 100 copies total with few remaining. Each copy is numbered and signed by the author. It is leather bound with gold gilt trim and gold-edged pages. Cover features relief image of a Tillandsia.

Paul has worked long and hard to bring forth a new treatment that will update much of what has been going on with Tillandsia in the past 22 years since the first book was published. The book will have 310 total pages which is some 30 pages more than the first edition. It is being crafter of the finest materials in order to not only look beautiful to the eye but to last in excellent condition for decades to come. Each copy will also have a clear plastic cover that will protect the dust jacket from finger prints, smudges and scratches. The dust jackets themselves are French folded to resist tearing, the book cover itself is of high quality cloth that is feels sensuous to the touch. The paper is archival quality and acid free to last for generations. It is also heavy enough to completely block the heavy and lavish use of color photos from bleeding through to the other side of the page. The pages were printed on new, state-of-the-art Heidelberg 8 color presses to ensure the most detail in every photo.

396 full color photos, 33 black and white photos, 30 black and white figures.
List Price: $295.00
Your Low Price: $295.00
This item is on order with publisher
new orders will ship upon arrival.
Specific Details
Hardcover: 310 pages
Illustrated
Title: Tillandsia II - Limited Edition Deluxe Copy
Author: Paul T. Isley III
Publisher: Botanical Press
Date: 2010
ISBN 10:
ISBN 13: 9780981701011
Language: English
Weight: 4 lbs 5.6 ounces