Shopping Cart: Empty
->
Regional
Colorado's Spanish Peaks Region an Exploration Guide to History, Natural History, Trails, and Drives

Author: Richard C. Keating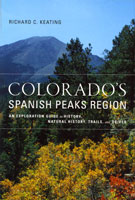 Colorado's Spanish Peaks are landmarks of unique beauty. The peaks and surrounding landscape possess a fascinating geologic history, as well as equally diverse human and natural histories. Much of the landscape is in public ownership and invites exploration. As the region's first comprehensive guide, this book provides an indispensable introduction to the area, with numerous maps, illustrations, and information on:

Federal wilderness areas and other accessible lands.
Human history ranging from early native occupation to post Civil War origins of modern settlement.
Geologic history, including a glossary, plus geographic and ecologic settings.
Scenic drives, accompanied by a mileage log and descriptions of landmarks.
Hiking trails, including some worthy destinations where no trails exist.
Predators and other mammals, and checklists of amphibians, reptiles, and birds.
Ferns, conifers, woody flowering plants, and herbaceous plants, totaling over 1000 named organisms.
The guides utility is enhanced by appendices featuring preparations for outings, notes on Colorado trespass law, tips on mountain photography, and a source list for agencies and organizations. Finally, a detailed resource list is included, plus two indices, one for general subjects, the other for common and scientific names of plants and animals.
List Price: $24.99
Your Low Price: $22.49
In Stock Now!
Specific Details
Softcover: 350 pages
Illustrated
Title: Colorado's Spanish Peaks Region
Author: Richard C. Keating
Publisher: Missouri Botanical Garden Press
Date: 2011
ISBN 10: 1930723857
ISBN 13: 9781930723856
Language: English
Weight: 1 lbs 5.4 ounces