Shopping Cart: Empty
->
Cactus & Succulents
->
Cacti and Succulents
Superb Succulents

Author: Duke Benadom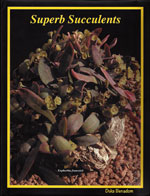 The intent of Superb Succulents is to provide readers with a compilation of information and images from years of perambulating and photographing winning specimens as displayed in cactus and succulent shows throughout the western USA. A few additional images have been included, mostly for a comparison to the potential beauty of a well-staged show plant, or in some cases, to show flowering specimens.

This book is loaded with 700 photos of fantastic plants. Each subject includes text that is not merely a ridgid botanical description, but full of useful tips for the collector.
List Price: $59.95
Your Low Price: $44.95
In Stock Now!
Specific Details
Hardcover: 236 pages
Illustrated
Title: Superb Succulents
Author: Duke Benadom
Publisher: Superb Succulents
Date: 2013
ISBN 10:
ISBN 13: 9780989651400
Language: English
Weight: 3 lbs 1.0 ounces