Shopping Cart: Empty
->
Trees & Shrubs
Figs of Southern and South-Central Africa

Author: John Burrows, Sandra Burrows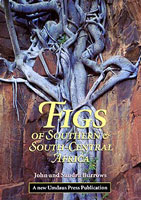 This well known husband & wife botanical team also produced the definitive work on ferns of the region in their Southern African Ferns and Fern-Allies (1990). Eleven years in the making, this new authoratotive work provides detailed information on the 48 native figs (Ficus) of South Africa, Namibia, Botswana, Swaziland, Mozambique, Zimbabwe, Zambia and Malawi.

Also included are the commonly cultivated figs which were introduced into the region for economic and ornamental horticulture, and the other members of the Fig family (Moraceae) found in the region, including the cultivated mulberry (Morus), the breadfruit (Artocarpus), and the timber tree which produces iroko lumber (Milicia). A total of 88 species are covered.

Book size: 235 x 315 mm (portrait), 380 pages, more than 500 colour photographs and 90 full-page pen-and-ink illustrations, bound in fine cloth with a hardcover with laminated French fold dust cover.
List Price: $99.95
Your Low Price: $99.95
In Stock Now!
Specific Details
Hardcover: 380 pages
Title: Figs of Southern and South-Central Africa
Author: John Burrows, Sandra Burrows
Publisher: Umdaus Press
Date: 2003
ISBN 10: 1919766243
ISBN 13: 9781919766249
Language: English
Weight: 4 lbs 13.8 ounces