Shopping Cart: Empty
->
Other Titles
Irises

Author: Barbara Jeppe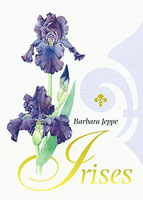 This is a truly magnificent book of art work illustrating 38 iris species and cultivars. The illustrations are full size hence the size of the book. The quality of the printing and paper is excellent. Each of the 38 art reproductions is supported with a description of the plant and notes on its origin. Both the history of the Iris and the part played by them in man's history and mythology, from France to the Orient are covered.

The section on the role of the Iris in art and emblems provides intriguing reading. Informative notes on cultivation and optimum location of Irises in the garden are given.

This book should be embraced by Iris gardening enthusiasts, botanists, and lovers of botanical art.

Barbara's paintings have been exhibited in galleries throughout South Africa and the USA as well as the United Kingdom. They are sought after by collectors for both their botanical accuracy and artistic merit.

Book size: 300 x 410 mm (portrait), 96 pages, 38 full colour paintings, soft cover.
List Price: $45.00
Your Low Price: $45.00
In Stock Now!
Specific Details
Softcover: 96 pages
Illustrated
Title: Irises
Author: Barbara Jeppe
Publisher: Umdaus Press
Date: 1999
ISBN 10: 1919766146
ISBN 13: 9781919766119
Language: English
Weight: 2 lbs 3.6 ounces