Shopping Cart: Empty
->
Cactus & Succulents
->
Other Succulents
Aloes & Agaves in Cultivation

Author: Jeff Moore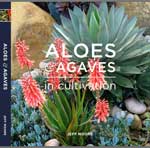 Aloes and agaves have become iconic botanical statement plants for Mediterranean gardens worldwide. This lushly photographed book offers a comprehensive overview of both groups in cultivation, with expert analysis and advice from author and nurseryman Jeff Moore. If you are newly bitten or long-time smitten by these remarkable plants, you need this book.

With over 1000 images, this books is as close to a definitive guide to these wonderful sculptural plants in cultivation as you will find. Photographed primarily in California, this isn't about plants in habitat; it is about how we grow them in the California, with cultural tips and insights from an author with over thirty years of experience.
List Price: $39.99
Your Low Price: $39.95
This item is on order with publisher
new orders will ship upon arrival.
Specific Details
Softcover: 335 pages
Illustrated
Title: Aloes & Agaves in Cultivation
Author: Jeff Moore
Publisher: Author
Date: 2016
ISBN 10: 0991584619
ISBN 13: 9780991584611
Language: English
Weight: 3 lbs 9.8 ounces