Shopping Cart: Empty
->
Cactus & Succulents
->
Cactus Only
The Cactus of Colorado

Author: Don Barnett, Donnie Barnett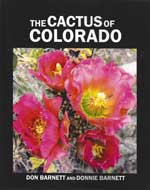 Complete guide to the Cactus flora of Colorado. 24 species and varieties, including 2 new species with range maps and taxonomic keys. Over 270 pictures and diagrams including technical taxonomic species comparisons with text and photos. History of Colorado botanist, vegetation, overview of ecological regions and life zones. Where to view cactus in protected public lands. Cultural uses and history of cactus uses. Biological controls including insects and fungal diseases. Cactus cultivars and where to buy locally.
List Price: $39.99
Your Low Price: $39.99
This item is on order with publisher
new orders will ship upon arrival.
Specific Details
Softcover: 336 pages
Illustrated
Title: The Cactus of Colorado
Author: Don Barnett, Donnie Barnett
Publisher: Colorado Cactus and Succulent Society
Date: 2016
ISBN 10: 0692800700
ISBN 13: 9780692800706
Language: English
Weight: 1 lbs 11.8 ounces