Shopping Cart: Empty
->
Cactus & Succulents
->
Cactus Only
Cacti of Eastern Brazil

Author: Nigel Taylor, Daniela Zappi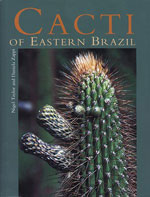 Published by Kew in July 2004, Cacti of Eastern Brazil is a floristic monograph and guide to the history of discovery, classification, identification, ecology, phytogeography and conservation of the cacti (Cactaceae) found native and naturalised in Eastern Brazil, illustrating and mapping all recognised native species and subspecies. It includes IUCN Red List Conservation Assessments for all 162 taxa and recommendations for conservation action, protected areas and priorities for further study. It is based on fieldwork and herbarium research carried out over the period 1987–2003, and embodies the doctoral theses of both authors, Taylor and Zappi.
List Price: $109.00
Your Low Price: $89.95
This item is on order with publisher
new orders will ship upon arrival.
Specific Details
Hardcover: 500 pages
Illustrated
Title: Cacti of Eastern Brazil
Author: Nigel Taylor, Daniela Zappi
Publisher: Royal Botanic Gardens Kew
Date: 2004
ISBN 10: 1842460560
ISBN 13: 9781842460566
Language: English
Weight: 2 lbs 14.2 ounces