Shopping Cart: Empty
->
Cactus & Succulents
->
Cactus Only
Cacti in Brazil Kakteen in Brasilien

Author: Konrad Herm, Andreas Hofacker, Werner van Heek, Graham Charles, Bernahard Bohle, Willi Stecker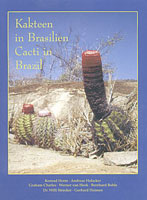 This book is a pictorial celebration of Brazil and its unique succulent flora including many wonderful, large format habitat photographs. The text describes the main cactus genera and gives an insight into the history of cactus research in Brazil and the people who did it.

366 colour pictures (many large format), 2 colour maps. 176 pages, bilingual German and English (all the text is in both languages). 24 x 31cm (larger than A4), hardbound in cloth with a dust jacket.
List Price: $75.00
Your Low Price: $45.95
In Stock Now!
Specific Details
Hardcover: 176 pages
Illustrated
Title: Cacti in Brazil
Author: Konrad Herm, Andreas Hofacker, Werner van Heek, Graham Charles, Bernahard Bohle, Willi Stecker
Publisher: Authors
Date: 2000
ISBN 10: 3000075739
ISBN 13: 9783000075735
Language: English
Weight: 2 lbs 13.7 ounces