Shopping Cart: Empty
->
Cactus & Succulents
->
Other Succulents
Agaves - Scratch and Dent Species, Cultivars, and Hybrids

Author: Jeremy Spath, Jeff Moore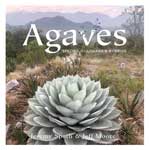 These are brand new books, but they got a little banged up in shipping - such as the corners having a little indentation. This is not major damage, but enough to not be sold as pristine.
Agaves – Species, Hybrids and Cultivars takes a deep dive into the world of agaves, both cultivated and in their native habitat. Co-authored with agave expert Jeremy Spath, this 350+ page book offers over 2000 images and informative information about these stunningly beautiful and architectural plants. Cultivars and hybrids are shown and discusses as well as the majority of species.
List Price: $39.95
Your Low Price: $30.00
In Stock Now!
Specific Details
Softcover: 356 pages
Illustrated
Title: Agaves - Scratch and Dent
Author: Jeremy Spath, Jeff Moore
Publisher: Author
Date: 2021
ISBN 10: 099158466X
ISBN 13: 9780991584666
Language: English
Weight: 4 lbs 2.8 ounces