Shopping Cart: Empty
->
Regional
50 Common Edible & Useful Plants of the Southwest

Author: David Yetman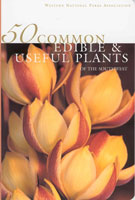 Often being useful to other species is what helps a plant survive. Wild plants in the Southwest have always been useful to humans and other animals, not only as food but as building materials, etc. David Yetman tells the fascinating stories of how plants and humans work together. Includes close-up color photography.
List Price: $9.95
Your Low Price: $8.95
This item is on order with publisher
new orders will ship upon arrival.
Specific Details
Softcover: 64 pages
Illustrated
Title: 50 Common Edible & Useful Plants of the Southwest
Author: David Yetman
Publisher: Western National Parks Association
Date: 2009
ISBN 10: 1583691065
ISBN 13: 9781583691069
Language: English
Weight: 0 lbs 5.5 ounces