Shopping Cart: Empty
->
Bromeliads
Jewels of the Jungle Bromeliaceae of Ecuador Part 1 Bromelioideae

Author: Jose M. Manzanares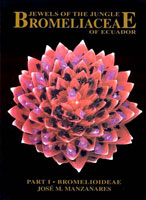 The Bromelioideae is the first volume of a trilogy on the study of Bromeliaceae of Ecuador. It will be followed by Pitcairnoideae and the Tillandsioideae, the most extensive subfamily.

This book will try to show the diversity of the epiphytic family Bromeliaceae in three regions of Ecuador, "la Costa" (the coast) "la Sierra" (the mountains) and "el Oriente" (the Amazon Basin).

Bromeliads inhabit all types of vegetation and are found throughout Ecuador from "la region Insular", in the Galapagos archipelago, to the highest "paramos". They thrive in the tropical forests, subtropical forests, and in the high Andes Mountains.

In each subfamily, the species are shown in detail, with the description of the plant, collections studied and photographs of each plant with detailed photographs of the inflorescence.
List Price: $150.00
Your Low Price: $134.95
In Stock Now!
Specific Details
Hardcover: 240 pages
Illustrated
Title: Jewels of the Jungle Bromeliaceae of Ecuador Part 1
Author: Jose M. Manzanares
Publisher: Author
Date: 2000
ISBN 10: 9978425470
ISBN 13:
Language: English
Weight: 3 lbs 7.7 ounces