->
Bromeliads
Jewels of the Jungle Bromeliaceae of Ecuador Part 2 Pitcairnioideae

Author: Jose M. Manzanares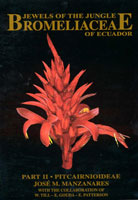 In part II, a small study is presented of the 15 genera in the subfamily Pitcairnioideae, with details of their characteristics, along with photographs in situ, in order to aid in their classification.

In Ecuador, this subfamily is comprised of only Pitcairnia and Puya. Pitcairnia has 83 species, 1 natural hybrid, 11 varieties, and 1 form, and Puya (the Queen of the paramos) has 34 species, 2 natural hybrids, 12 varieties, and 1 form. Each species, as in the first volume, contains a morphological description, materials examined, observations of the habitat, distribution, and photographs of the plant in flower and of the inflorescence.

In this opus, 14 new species, 4 varieties, and 1 form of Pitcairnia, and 9 new species of Puya and 2 new hybrids have been published. Thus, 23 species, 4 varieties, 2 natural hybrids, and 1 form, all new to science, are presented.
List Price: $150.00
Your Low Price: $134.95
Out of stock. If interested, please ask about availability.
Specific Details
Hardcover: 303 pages
Illustrated
Title: Jewels of the Jungle Bromeliaceae of Ecuador Part 2
Author: Jose M. Manzanares
Publisher: Author
Date: 2005
ISBN 10: 9978440224
ISBN 13:
Language: English
Weight: 4 lbs 3.4 ounces