Shopping Cart: Empty
->
Trees & Shrubs
A Guide to the Trees of Utah and the Intermountain West

Author: Michael Kuhns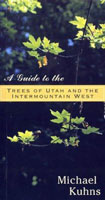 For any tree enthusiast, be it homeowner, landscaper, recreationist, traveler, or student, who has needed a comprehensive, user-friendly guide to the trees of Utah and the Intermountain West, this new guide is the answer.

Tree specialist Michael Kuhns, through extensive research, has compiled a comprehensive list of virtually every native and introduced tree species from the eastern slope of the Rockies westward to the Sierra Nevada, and from north-central Oregon, the Salmon River region, and Yellowstone southward to the Grand Canyon and northern New Mexico. Included in the guide are simple and easy-to-use identification and classification keys, which are accompanied by hundreds of illustrations that introduce basic information on tree anatomy, climate/hardiness zones, and the individual species.

Accessible and informative, this comprehensive guide to the trees of the Intermountain West is a welcome addition to the library of any reader wanting basic information on the vast inventory of trees in this region.
List Price: $24.95
Your Low Price: $19.95
In Stock Now!
Specific Details
Softcover: 352 pages
Illustrated
Title: A Guide to the Trees of Utah and the Intermountain West
Author: Michael Kuhns
Publisher: Utah State University Press
Date: 1998
ISBN 10: 0874212448
ISBN 13: 9780874212440
Language: English
Weight: 0 lbs 11.6 ounces