Shopping Cart: Empty
->
Trees & Shrubs
Trees National Champions

Author: Barbara Bosworth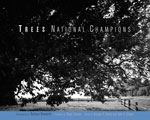 Trees capture our imagination because they are rooted solidly in the earth but point ethereally toward the sky. They occupy a dimension that has as much to do with time and patience as with place and landscape. They are vertical beings to whom we attribute qualities both divine and human. Since 1991, photographer Barbara Bosworth has been on a quest to photograph America's "champion" trees—trees that are the biggest of their species, as recorded in the National Register of Big Trees, a list established and maintained by the nonprofit conservation organization American Forests. She has traveled down highways and up back roads, walked through forests and across clear-cut land, sometimes led by local tree enthusiasts, sometimes alone, to photograph trees that are remarkable not only for their size but for their endurance.

Bosworth finds champion trees in backyards, fields, and forests, near roadways, power lines, and sidewalks. Her photographs document the trees' magnificence but also show how they are markers of a changing landscape. The yellow poplar, for example, stands on the fringes of a suburban housing development, in the center of a park for the enjoyment and relaxation of residents. The western red cedar stands alone in the middle of a clear-cut, saved from logging only because it is recorded in the Register as the biggest of its kind. The trees and their surroundings tell us about our relationship with nature and the land.

Bosworth captures the ineffable grace and dignity of trees with clarity and directness: the green ash that shades a midwestern crossroads, the common pear that blooms in a Washington field, and the Florida strangler fig with its mass of entwining aerial roots. Her photographs, panoramic views taken with an 8 x 10 camera, show the immensity of the largest species and the hidden triumphs of the smallest. Some trees are dethroned each year because of sickness or destruction, but more often simpy because a new and bigger specimen is discovered; only three trees from the original Register in 1940 are still living today. Bosworth's 70 photographs of champion trees are not only a collection of tree portraits but the story of an American adventure as well.
List Price: $26.95
Your Low Price: $12.95
In Stock Now!
Specific Details
Hardcover: 144 pages
Illustrated
Title: Trees National Champions
Author: Barbara Bosworth
Publisher: MIT Press
Date: 2005
ISBN 10: 0262025922
ISBN 13: 9780262025928
Language: English
Weight: 2 lbs 14.5 ounces