Shopping Cart: Empty
->
Orchids
Wild Orchids of Florida Updated and Expanded Edition

Author: Paul Martin Brown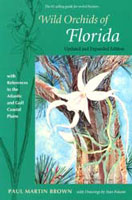 First published in 2002, Wild Orchids of Florida was the very first field guide for this orchid-rich state, and it inspired many to try their hand at orchid hunting. Because of its overwhelming popularity and in an attempt to provide the latest developments in orchid research, native orchid expert Paul Martin Brown follows up with this newly revised and expanded edition.

The guide contains 200 new points of fact, including:

more than 100 new county records established since 2002
three recently rediscovered species that have not been seen in 100 years
two previously undocumented species, six new hybrids, and several new color forms described and illustrated for the first time
the resurrection and revalidation of the little-used genus of Gymnadeniopsis
34 revised county distribution maps, 37 new color photos, and three new watercolors by Stan Folsom
With its comprehensive yet easy-to-follow treatment, Wild Orchids of Florida remains the essential field companion for professional botanists, native plant enthusiasts, nature lovers, or anyone who wants to learn more about what's growing out in the wilds of Florida.
List Price: $24.95
Your Low Price: $18.21
In Stock Now!
Specific Details
Softcover: 432 pages
Illustrated
Title: Wild Orchids of Florida
Author: Paul Martin Brown
Publisher: University Press of Florida
Date: 2006
ISBN 10: 0813029333
ISBN 13: 9780813029337
Language: English
Weight: 1 lbs 14.5 ounces