Shopping Cart: Empty
->
Cactus & Succulents
->
Cactus Only
Pricklypears Commonly Found in the United States and Northern Mexico

Author: Cheryl W. Green, Dave J. Ferguson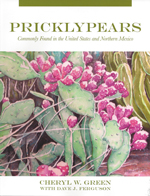 Pricklypears (aka: prickly pears) are the largest, the most common and the most widespread cactus genus (group)––yet they are one of the most misunderstood. This book helps sort them out. A user-friendly format and abundant photographs will help amateurs tell one species from another. And accurate technical data (in metric and US measurements) for 60 species accounts and 33 additional abridged accounts makes it a useful identification guide for plant professionals.

The Introduction sets the stage for the identification of 60 pricklypear species, varieties, forms or cultivars commonly found in the United States and northern Mexico.

Pricklypears are grouped by growth habit: Chapter 1 has mainly tree-like plants; Chapters 2 and 3 have large-shrubby plants; Chapters 4 through 7 have low-growing plants.

60 one-page profiles (species accounts) have information on names, ornamental uses, range, cold tolerance and USDA ratings; plus photos and data on its five main features.

Photographs of each pricklypear's growth habit, stem segments, spines, flowers and fruit are located at the page edge for easy comparisons of the same feature in all profiles.
List Price: $26.95
Your Low Price: $26.95
In Stock Now!
Specific Details
Softcover: 140 pages
Illustrated
Title: Pricklypears
Author: Cheryl W. Green, Dave J. Ferguson
Publisher: Author
Date: 2012
ISBN 10: 897987PP
ISBN 13:
Language: English
Weight: 1 lbs 2.5 ounces