Shopping Cart: Empty
->
Cactus & Succulents
->
Other Succulents
Australian Succulent Orchids

Author: Attila Kapitany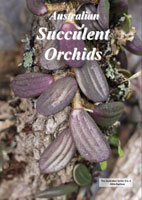 Orchid flowers are seasonal and may not last that long. This is about the plants that are worth growing and knowing just for how they look any time of the year. This booklet has high quality images of Australian orchids in both habitat and in cultivation. What is unusual about this orchid booklet is that the plants featured include some of the most drought-hardy, easy to grow orchids in the world. Perhaps more importantly this booklet highlights their increasing popularity. Extremely desirable and collectable plants for porch, patio and a range of other outdoor areas. Ideal for vertical gardens where space is a premium. The pictures show great examples of unusual and interesting Australian succulent orchids that most people haven't seen before. Includes plants suitable for rockeries.
List Price: $18.00
Your Low Price: $17.95
This item is on order with publisher
new orders will ship upon arrival.
Specific Details
Softcover: 20 pages
Illustrated
Title: Australian Succulent Orchids
Author: Attila Kapitany
Publisher: Australian Succulents
Date: 2011
ISBN 10:
ISBN 13:
Language: English
Weight: 0 lbs 3.5 ounces