Shopping Cart: Empty
->
Cactus & Succulents
->
Other Succulents
Australian Weird and Wonderful Wattles

Author: Attila Kapitany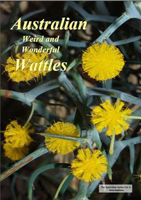 This publication looks at various interesting and unusual aspects of common wattles and then a closer look at several that are among the weirdest and why they are worthwhile growing.

The very unusual plants featured in this publication?Acacia aphylla, A. glaucoptera, A. denticulosa and A. leprosa 'Scarlet Blaze' are proving to be extremely popular with garden designers and florists.

These are examples of once rare or unavailable wattles becoming more widely available. These plants grow to a modest height and won't overwhelm any garden.
List Price: $18.00
Your Low Price: $17.95
In Stock Now!
Specific Details
Softcover: 20 pages
Title: Australian Weird and Wonderful Wattles
Author: Attila Kapitany
Publisher:
Date: 2012
ISBN 10:
ISBN 13:
Language: English
Weight: 0 lbs 3.4 ounces