Shopping Cart: Empty
->
Cactus & Succulents
->
Other Succulents
Introduction to the Euphorbiaceae

Author: Albert Pritchard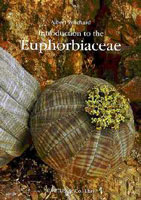 For many years the succulent Euphorbiaceae have fascinated the lovers of these natural wonders. Albert Pritchard, definitely affected by an acute euphorbia-mania, offers to newcomers to these plants a brief but comprehensive excursion into this family, which has colonised nearly all continents.

Short historical notes and cultivation tips complete the description of the most significant species, illustrated with excellent color pictures. A wide bibliography offers the facility of further study and knowledge of the Euphorbiaceae world.
List Price: $12.95
Your Low Price: $12.16
This item is on order with publisher
new orders will ship upon arrival.
This title is currently inactive.
Specific Details
Softcover: 64 pages
Illustrated
Title: Introduction to the Euphorbiaceae
Author: Albert Pritchard
Publisher: Cactus & Co.
Date: 2003
ISBN 10: 8890051140
ISBN 13:
Language: English
Weight: 0 lbs 6.6 ounces