Shopping Cart: Empty
->
Cactus & Succulents
->
Other Succulents
Succulent and Xerophytic Plants of Madagascar Volume One

Author: Werner Rauh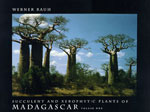 Here is Volume 1 of the vast study of the succulents and xerophytes of Madagascar by Professor Dr. Werner Rauh. During visits over several decades to this exotic island nation in the Indian Ocean, Professor Rauh has collected, cultivated, studied, propagated, and named numerous species from this ecologically unique country.

On this isolated island world thousands of species are found no where else on earth. In documenting the succulents and xerophytes of Madagascar, Professor Rauh had combed jungles, mountains, and deserts to describe and photograph these often bizarre, yet astonishingly beautiful plants.

Professor Rauh's brilliant photography and informative text now permanently documents the succulent and xerophytic flora of a world that is increasingly threatened by the demands of population expansion and the depletion of natural resources.
List Price: $109.95
Your Low Price: $80.00
In Stock Now!
Specific Details
Hardcover: 400 pages
Illustrated
Title: Succulent and Xerophytic Plants of Madagascar
Author: Werner Rauh
Publisher: Strawberry Press
Date: 1995
ISBN 10: 0912647140
ISBN 13: 9780912647142
Language: English
Weight: 4 lbs 2.0 ounces