->
Orchids
CITES Orchid Checklist Volume 1

Author: J. A. Roberts, C. R. Beale, J. C. Benseler, H. N. McGough, D.C. Zappi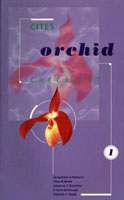 Intended as a tool to curb the illegal trade in endangered species, CITES Orchid Checklist is also an invaluable directory for collectors and growers who want to know exactly what plants they are growing and their conservation status. Divided into three sections, part 1 is an alphabetical list of all names, part 2 lists genera separately ordered by accepted names, and part 3 lists plants by country of origin. Printed in two parts.

Part 1- covers Cattelys, Cypripedium, Loelia, Pahiopedilum, Phalaenopsis, Phragmipedium, Pleone, Sophrontis, Constantia, Paraphalaenopsis and Sophronitella.
List Price: $24.00
Your Low Price: $22.95
This item is on order with publisher
new orders will ship upon arrival.
This title is currently inactive.
Specific Details
Softcover: 140 pages
Title: CITES Orchid Checklist Volume 1
Author: J. A. Roberts, C. R. Beale, J. C. Benseler, H. N. McGough, D.C. Zappi
Publisher: Royal Botanic Gardens Kew
Date: 1995
ISBN 10: 0947643877
ISBN 13: 9780947643874
Language: English
Weight: 0 lbs 9.6 ounces