Shopping Cart: Empty
->
Orchids
CITES Orchid Checklist Volume 4

Author: Matthew Smith, Chris Brodie, Jenny Kowalczyk, Sabina Michnowicz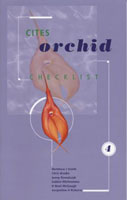 This is the fourth in the CITES orchid checklist series, and covers the genera Aerides, Coelogyne, Comparettia and Masdevallia. It contains a full list of accepted names, synonyms and distribution of all species concerned. For the first time the Checklist is included on CD-ROM, (integral with the book), which also includes Checklists 1-3. Covering a total of some 35 genera it is thus an invaluable tool for anyone working in CITES or more specifically on orchids.

150 x 250mm. CD-ROM in rear pocket.
List Price: $60.00
Your Low Price: $55.00
This item is on order with publisher
new orders will ship upon arrival.
This title is currently inactive.
Specific Details
Softcover: 198 pages
Title: CITES Orchid Checklist Volume 4
Author: Matthew Smith, Chris Brodie, Jenny Kowalczyk, Sabina Michnowicz
Publisher: Royal Botanic Gardens Kew
Date: 2006
ISBN 10: 1842461222
ISBN 13: 9781842461228
Language: English
Weight: 0 lbs 14.7 ounces