Shopping Cart: Empty
->
Orchids
CITES Orchid Checklist Volume 3

Author: J. A. Roberts, S. Anuku, J. Burdon, P. Mathew, H. N. McGough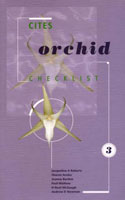 Following the format of Volume 1, this third volume includes Aerangis, Angraecum, Bletilla, Brassavola, Calanthe, Miltonia, Miltonioides, Miltoniopsis, Renanthera, Renantherella, Rhynchostyllis, Rossioglossum, Vanda and Vandopsis.
List Price: $24.00
Your Low Price: $19.95
This item is on order with publisher
new orders will ship upon arrival.
This title is currently inactive.
Specific Details
Softcover: 240 pages
Title: CITES Orchid Checklist Volume 3
Author: J. A. Roberts, S. Anuku, J. Burdon, P. Mathew, H. N. McGough
Publisher: Royal Botanic Gardens Kew
Date: 2001
ISBN 10: 1842460331
ISBN 13: 9781842460337
Language: English
Weight: 1 lbs 4.2 ounces