Shopping Cart: Empty
->
Orchids
CITES Orchid Checklist Volume 5

Author: A. Sieder, H. Rainer, M. Kiehn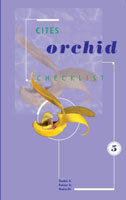 This is the fifth in the CITES orchid checklists series and covers the genera Acrochaene, Bulbophyllum, Chaseella, Codonosiphon, Drymoda, Monomeria, Monosepalum, Pedilochilus, Saccoglossum, Sunipia and Trias. It contains a full list of accepted names, synonyms and distribution of all the species concerned and is an essential tool for anyone working in CITES or on orchids. The CD-ROM includes orchid checklists 1–5, a total of some 46 genera. Also included on the CD-ROM are the three books in the series of CITES User's Guides, CITES and Plants, CITES and Succulents and CITES and Slipper Orchids. These include fully illustrated PowerPoint training presentations and full text in English, French and Spanish.
List Price: $33.00
Your Low Price: $29.95
This item is on order with publisher
new orders will ship upon arrival.
This title is currently inactive.
Specific Details
Softcover: 408 pages
Title: CITES Orchid Checklist Volume 5
Author: A. Sieder, H. Rainer, M. Kiehn
Publisher: Royal Botanic Gardens Kew
Date: 2010
ISBN 10: 1842462253
ISBN 13: 9781842462256
Language: English
Weight: 1 lbs 13.7 ounces